What to take on a 7,000 motorcycle mile trip?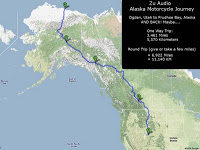 Going to Lake Louise day one, then nearly White Horse YT day two. Day three somewhere around Fairbanks or so. Day four Dead Horse, the top of the Haul Road. Swim, Northern Lights, back home.
credit card
passport
drivers license
insurance card
registration
bear spray, 8 Oz.
shotgun (Adam)
10x slug ammo (Adam)
6x ibuprofen 800mg
note pad
pen, pencil, and permanent marker
3x pair earplugs
7.5 gallon extra fuel cell
duct tape (first aid, clothing fixes...)
shield cleaning cloth / camp towel
tire repair kit, plug type
(fix-a-flat, Adam)
tire pressure gauge
jumpers (Jake)
multi tool
3/8" socket wrench (Jake)
3/8" to 1/2" drive adaptor (Jake)
24mm 1/2" drive socket (Jake)
OEM toolkit for SV
9/16" 3/8" drive socket
Torx 40 3/8" drive socket
Torx 27 wrench
5/32" Allen wrench
1/8" Allen wrench
5mm Allen wrench
7/8" axel tool
7/8" axel wrench
3/4" wrench
5/8" wrench
razor blade
valve stem remover
electrical tape (1/4 role)
wire nuts
50' parachute cord
1x drive belt
2x rear wheel bearing
1x spark plug
1x spare H4 bulb
1x blinker bulb
2x 10 Amp fuse
1x 20 Amp fuse
1x 15 Amp fuse
1x 30 Amp fuse
1/2" hose clamp
miscellanies hardware
quart of oil
funnel (for the scotch:)
iPod + Etty and Sure in-ear phones
2x iPod power adaptor
2x iPod power cable
tent, two-man Sierra Designs 3-season
25ºF down bag
Thermarest pad
headlamp, extra batteries
lighter
camp soap
cookware, stove, 16 Oz. butane
compass
leather riding suit
riding boots
riding gloves
waterproof extreme weather mitts
roots / weather hand guards
Hot Grips
heated top with arms, tailored, (3.3 Ohm / 50 Watt) made from U.S. military arctic liner
heated bottoms, tailored, (4.5 Ohm / 35 Watt) made from U.S. military arctic liner
Widder system 1 heated vest (back up)
3x base layer top and bottoms
3x underwear
3x socks
1x camp shirt
1x camp pant
1x down booties
1x knit hat
Canon Eos D1 Mk3
Canon EF 85mm 1.2L
Canon EF 24 - 70mm 2.8L
Canon EF Fisheye 15mm
remote timer
ball head and tripod
lens cleaner
lens cloth
Ogden 5:50 am, Maverick, 8 gallons > Blackfoot 153 miles, 2 hours, 8:00 am 85 mph Salmon, ID 350 miles, 11:00 am 70 mph, Flathead Lake / Polson, MT 208 miles 65 mph, 2:00 pm, FUEL/pee/food. Eureka, MT 118 miles 65 mph 4:30 pm Radium Hot Springs, BC 149 miles 65 mph, 2.5 hours, Enter Kootenay National Park on 93, 7:40 pm Jasper, BC 223 miles 60 mph , 4 hours.
Day one, need to make it into the Kootenay!