Time for the 7,000 Mile epic motorcycle adventure again!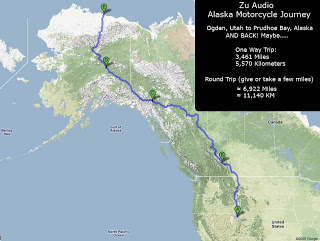 OK, you have 7 days to do anything you want. What do you do?
A) Go to the beach and relax?
B) Go fishing?
C) Go camping?
D) Attempt to ride your motorcycle 7000 miles in 7 days.... from Ogden, Utah to Prudhoe Bay Alaska?
No, not many people would have picked (D).
Yea that's 7 Iron Butt rides (Iron Butt=1,000 miles in one day on a motorcycle) in as many days. Sight seeing at 80mph for days on end, many miles from any provisions. You are basically on you own if anything breaks so you better have a spare... everything.
Well, this is Adam and Seans second attempt at this epic endurance motorcycle ride from Ogden, Utah to Prudhoe Bay, Alaska. Jake is ridding with them this year for his first attempt and I am still in Ogden with a broken wrist that precluded me from this years attempt. You guessed it, crashed a motorcycle and broke my wrist. This would have been my first Alaska attempt too.
Two years ago they nearly accomplished their goal only to come up a couple of hundred miles short of Prudhoe Bay. Extreem rear tire wear "down to the cords" turned them back to Fairbanks, for fresh Rubber and back home.
This year they left Sept. 4th 6am from Ogden. We haven't heard from them since. We expect word any day along with pictures and stories.
Stay posted for the details. ~Randy Sandman
Just for comparison, two other ONE WAY rides are listed below. Aprox. 3500 Miles or 5570 KM.