Druid Mk4 / 08 Upgrade Kit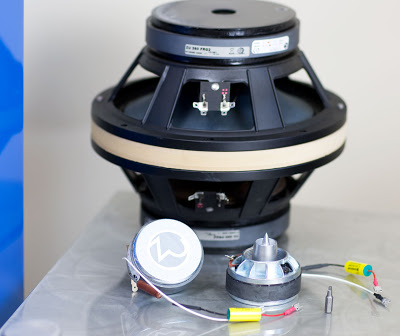 Zu Druid Mk4 / 08 Upgrade Kit
Benefits & Changes
Super-tweeter changes:
Complete remanufacture of driver with the removal of all shims, gaskets and screws.
Ferro-fluid is removed from gap.
Polyurethane bonding and the removal of all voids and shims on tweeter top-plate waveguide / voicecoil frame.
Complete bonding of composite phenolic dome diaphragm suspension to driver top-plate.
Repositioned / enhanced voicecoil / gap alignment.
Dynamic alignment process of voicecoil and gap to ensure correct tone and shove
(pre PU set).
Reflow voicecoil lead-in pots with high quality lead-free silver bearing solder. (RoHS)
0.5% or better matching for quality of tone and efficiency.
160 hours minimum factory burn-in post network termination.
Super-tweeter high pass network changes:
Simple two component (Cs + Rs) network.
Kimber Kap 1.0 uF now featured in place of Solen based network.
New top performing Mills resistor with revised values.
Reduction of termination joints by two-thirds.
Direct connection of capacitor, resistor, FastOn via cold forged and sealed termination.
FastOn terminals are now terminated using the solderless Amp crimping process.
Dramatic reduction of solder joints. In fact, the voicecoil lead-in pots are all that remain.
0.1% matching.
Full range driver changes:
Slight improvement in cone and cone binders.
Improved assembly tolerance.
0.5% or better matched pairs.
160 hours minimum factory burn-in, as we've been doing, but this time we kit and batch them to burn-in with the matched super-tweeter assembly. Also using some new music James selected for good, well rounded, musical appreciation.
Why all the changes? Blame the Zu / DL-103. Applying lessons learned with the phono pickup, like removing all possible voids and removing or controlling resonance on plates, we've created a dramatically improved tweeter. All the above listed tweeter changes reduce plate resonance by more than 30dB and spread the Q by an octave; together changes also yield very tight batch tolerances—80% of the batch measuring within 2%.
Not a lot of changes to the full range drivers, just a whole lot of care, testing, matching, and QC to ensure identical sound between channels. These changes were not possible when we were doing small runs. Now that we are batching 100 units at a time or greater we are able to hit these pretty fantastic tolerances.
Bottom line, better resolution everywhere, sweeter highs, much better stereophonic recreation, better depth, better timing, more natural / convincing out of the chair listening... yeah, this the best $600 bucks you will spend on playback! Provided you all ready have a pair of pre 2008 Zu Druid loudspeakers.
Zu Druid Mk4 / 08 Upgrade Kit Detail
Kit will upgrade one pair of any version Druid to Mk4 / 08 status.
All Druid loudspeakers sold before January 2008 are candidates for this upgrade.
Kit includes:
One pair Zu260FRD/G2 2008 0.5% matched 10.3" drivers.
One pair Zu/APT30/G3 2008 0.5% matched super-tweeter drivers.
One pair Zu Druid Mk4 / 08 0.1% matched super-tweeter high-pass network.
(factory assembled and terminated to super-tweeter driver)
One, #1 square drive bit (wire detent).
Two, square drive screws incase of loss or screw-head scaring.
One role of masking tape.
One instructional DVD.
One Druid Mk4 / 08 Guidebook with notice of Mk4 / 08 purchase.
Tools needed by person doing work:
One, interchangeable bit screwdriver. Basic type, wire detent, the kind most of us have kicking around the house.
One, 7/16" end wrench or basic adjustable wrench.
Job difficultly:
Easy. Only basic hand tool experience needed. Requires both hands. If you do not have any experience working on loudspeakers we recommend asking a buddy to help you, you might find a third hand helpful.
Time to complete work: (provided you watch the instructional video...)
2 hours or so for the less than handy or complete novice.
1 hour or less for those having some experience with this kind of work.
Price of the Druid Mk4 / 08 upgrade kit
$600 plus shipping ($800 upfront, with a $200 refund with return of original drivers, old drivers must be packaged using the same container to ensure old drivers make it back in good recyclable condition.)
Shipping weight is 25 pounds (11.4 kg) and measures 12-1/2" cubed (32 cm3)
Warranty & Service:
One year extension to original date of purchase 5-year warranty.
Free service and tech support info@zuaudio.com or 800-516-8925.
Free factory installation if you prefer, or if you run into a jam....