Zu Audio + Xact Audio, RMAF 2012
"You know the slinky hi-hat, the funky wah, the groovy bass line; the slow-building horns, the deep voice, the suggestive lyrics: Who's the black private dick / That's a sex machine to all the chicks? / (Shaft!) / Daaaamn right…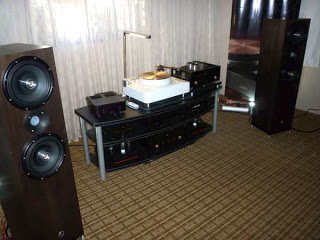 There was a party going on in the Xact Audio room. It seems there's always a party going on when Zu Audio loudspeakers are involved. The system: The Beat MagDrive turntable ($26,500), fitted with Frank Schroder's new LT linear tracking tonearm ($8900) and Lyra Atlas cartridge ($9500); Zu Definition Mk.4 loudspeakers ($13,000/pair); Allnic L-5000 DHT linestage ($19,000) and H-3000 phono stage ($11,900); Coincident 300B 8W monoblocks ($5900/pair); and Echole and Zu cables.
The sound: Driving, pulsing, hip-shaking, and present. I most enjoyed the sound of vocals, which reminded me of the best mono reproduction: big, rich, and immediate.
Over at AnalogPlanet, Michael Fremer writes more about Schroder's interesting linear tracking tonearm; and, in the coming days, I believe Art Dudley will follow-up with more about it here. Stay tuned."
—By Stephen Mejias