Sean's Baby: a Friendly Debate About Sean's Bike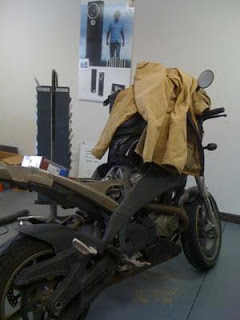 Kristian:
Here's a photo of Sean's bike. Although it's not normally in our engineering room, it was raining outside and he didn't want his baby to get wet. He treats this beast better than most people treat their pets. He's ridden this bike from Utah past the Arctic Circle and back in under a week, so his compassion for the bike is understandable. A true road warrior.
Sean:
My rebuttal to KP. The real reason this Buell is parked in the middle of R&D—and it has nothing to do with getting the sucker wet, just look at it, bikes (most) are for thrashing, the harder you push 'em they bigger fun—the rally light burned out on start up on my way out the door late last night (no spare bulb) and a dark front-end is a loud invitation to get pulled over, and as evasion is deeply ingrained from childhood, and wanting to avoid the hassle of unpaid parking tickets, and registration, and... I thought I better call Stef for a lift home. Not wanting to have it lifted is the reason its sitting here in R&D. "His baby" more like my mule.