After a year of Milestones, Zu Gets Ready for RMAF
By Sean Casey
2010 has been a huge year for Zu. Spring, we unveiled the Soul, a loudspeaker so sexy and high-performing it makes it hard for our customers to justify spending money on anything else. And in just a few more weeks we begin shipping Omen, a speaker that's high in quality but at a price that makes it accessible to a wide range of music fans. We're expanding our online presence to give our customers more ways to talk to us and go behind the scenes at Zu, so you can now stay in touch with us through our increasingly active Twitter and Facebook pages. In the future, we're going to feature our customization options more prominently on the Zu website by launching a "Custom Shop" section that will highlight the finishes available. A "Science" section will dive into the what makes our speakers perform as well as they do, and the accessories you can use to get the most out of your purchases.
We have a lot to be proud of, and it's just the beginning, you can look forward to more innovative products, resources and dispatches from Zu HQ through the end of 2010 and beyond. As we reflect on what Zu's accomplished this year and look forward to what's next, we see this weekend's Rocky Mountain Audiofest in Denver, Colorado as a "coming out party" for Zu. It's an opportunity for some of our biggest fans to get reacquainted with us, while we build new relationships with audiophiles looking for high-quality, custom, American-made hi-fi.
If you're planning to come out to Denver for this year's show, keep an eye on our Twitter and Facebook pages for information on exclusive discounts for RMAF attendees. We'll also have samples on hand so you can audition our equipment will hold a drawing for a pair of super-sexy Candy Green Soul Superfly speakers. If you aren't already drooling over what's at stake, here's a sneak preview of the speakers being prepped for the show.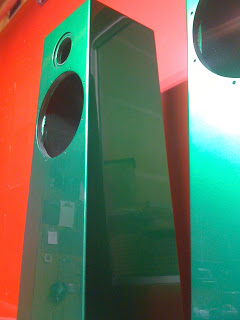 Continue to check back here and on our Twitter and Facebook pages to stay up to date on future promotions, Zu news and more good things to come.