Zu—on the cover of STEREOPHILE!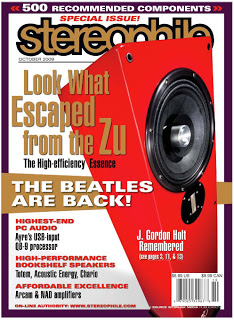 Stereophile October 2009 (Stereophile Vol.32 No.10) And right there on the cover is our redhot new Essence loudspeaker. Add to that Art Dudley's excellent review of the same. And to top it off Essence was placed in Stereophile's B-list (The A-list party is next year), lining up with the likes of DeVore Gibbon Nine, BC Acoustics A3, Vandersteen Quatro, Varity Rienzi....
Damn, the cover! How cool is that.
"The Zu Essence is not a hair-shirt product, in which regard alone it has surpassed at least half the high-efficiency loudspeakers in the domestic marketplace. Inasmuch as it's among the more affordable choices—exponentially, in some cases—it has surpassed many of the rest. The Essence is something of a milestone. With its very good bass extension, superb musicality, lack of egregious timbral colorations, and impressive spatial performance, the Zu Essence qualifies as the first loudspeaker I've heard that combines genuinely high efficiency with a level of audiophile performance for which no excuse needs to be made... I'm really impressed with the Essence—and, yes, I could happily live with it myself: It's that good." —Art Dudley Stereophile October 2009 (Stereophile Vol.32 No.10)