CES 2009 - Zu's Impression
(Taken from an email from Sean to Srajan at 6moons.com)
CES 2009. A good show for us, people were digging the sound, even vets like Jim Smith, Wes Phillips, John Atkinson, and Bob at BAAS liked the sound we were making, and given that the whole rig's cost when those mentioned was about 10k USD, we were pretty excited. Even the hard to please like Peter (Dave and Carol's kid) dug the sound, spinning up Thursday, Mogwai, Silver Jews and other bands that are impossible for trad hifi rigs to play with sincerity.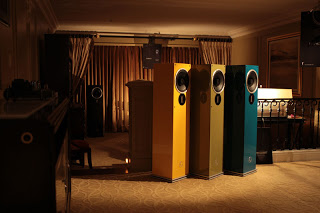 Our focus was the launch of our new loudspeaker, Essence. As always we had not given proper attention to show prep so we loaded up Adams truck with a bunch of electronics, music, asked Dallas for some last minute display ideas and some basic media and headed off for Las Vegas.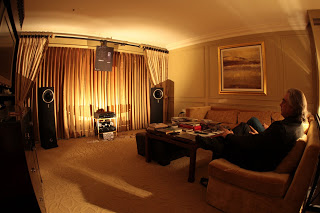 We ran a verity of gear during the show, changing it up each day. CES show gear list:
ModWright Sony CD player
ModWright preamp
Melody i2A3 integrated
Angelis Labor preamp
Manley Mahi Mahi amps, generally running with minimum feedback and in triode.
RedWine 70.2 amps
Peachtree Audio Novus as an integrated + server.
Angelis Labor amps
Setup: Ron, Adam, Sean
DJ / Demo: Ron Williams
Cabling: Zu
Rack: Hotel magazine end table
Power Conditioning: none
Room Treatment: none
Accessories: none
Staging Fixtures: Manfrotto
Lighting & Images: Dallas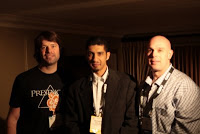 We were happy with the quality of traffic, and to hear that most visitors thought our direction to dealers is a bold and positive move. We received a lot of input on dealer program, point of sale needs, marketing... all the stuff we generally need to improve on. Essence and dealer program will hit the ground the middle of February.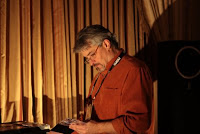 Good to see and meet so many people that share the common passion for music and the passion and physics behind it. My highlights included getting to know John DeVore, who had a room right next to us. He and I did our share of "hall monitoring" and got to talk music and NY. Also had a good talk with Chris Sommovigo, been a long time and it was good to talk family as well as business. And then hanin' with Misha, the big crazy Russian, loved his Ety in-ear mods! And running into Frank Denson and the Dynavector guys, haven't really talked with Frank for well over a decade. (For a "young guy" I'm starting to feel old, talking in decades now, true of Misha, Chris, Frank...time flies they say.) Yeah, for sure, the best part of the show is talking to people and getting to know them. Really dug hungin' with Ferenc Koscso from Penna Media Hungry, man, this guys has his hands and feet in everything sound and music, ENG, Broadcast, Live, Mastering, Playback, DJ...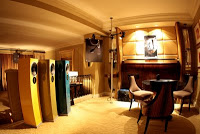 it was super cool talking sound with him, and again, good to catchup with someone that I haven't seen for well over a decade! And don't worry Ferenc, Zu will stay true to its roots and "Druid" sense. Was super happy to meet the guys from Angilis Labor, a great bunch; and can you believe it, Lucas got to hang with Julian Cope--just kickin back at Julian's place shootin' the breeze. Really enjoyed them all and learning about their products and business. A big thanks to Kent, Joe and the rest of the Pass Labs guys too. And the list goes on but I gotta stop somewhere. In the end, despite the state of economies and the crazies in government, people in hi-fi are pretty excited and living--it's a good time to be alive.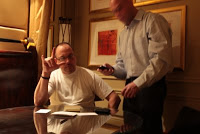 Big thanks to Tom W of Bike Town Harley-Davidson