Zu in Budapest
Ferenc and his team at Penna-Poor LTD in Hungary bring the house down with a pair of Druid and a little 2 Watt Yamamoto amp. These guys really know how to do a show, complete with great art, girls, music... man, if Zu could only put on a hi-fi show like Penna-Poor. Hungary gets it!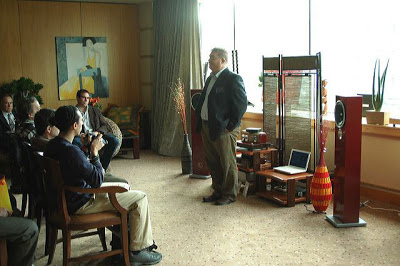 Ferenc, givin'em music and a pitch.
"It was quite a big thing and required a huge effort, everybody was surprised, we got architects, musicians, media celebrities, artists, all sorts of creative people there. My son, David-- 16 years old and it was his 5th exhibition since 2002. He dealt with the SD-HD broadcast Snell and Wilcox HD upconverter setup, the native HD plasma displays and he built the 3 Macs wifi network for music playing at three different locations at the same time with Leopard on one machine. To be honest, the Druid gave us the idea, to get some kind of exotic furnitures around the hifi, and it was the first time when the décor was a bit more important than the sound itself. At the end it was real fun." --Ferenc Koscso, Penna-Poor Ltd.
http://www.penna-media.hu/poor/hifi/mainpage.html
http://www.deluxe.hu/cikk/20071105/a_hazimozi_es_hi-fi_show_termeiben_high-end_termekeket_is_lattunk/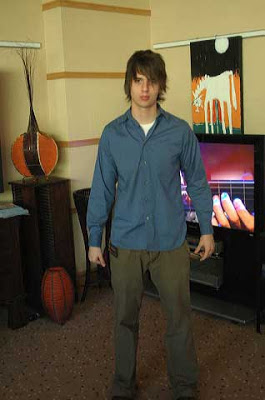 David Kosco bringin' a bit of DJ to the mix.