Pink Lightnin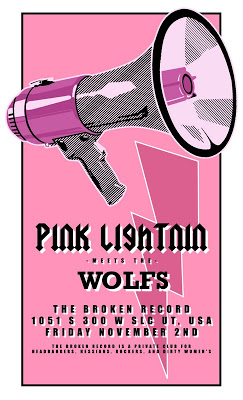 Pink Lightnin... I dig what they are doing, destined for for a national act. Members include HH Rev. Bad Brad Wheeler on Harmonica and Lap Steel, Eli Morrison on Guitar, and Jawsh Belka on Drums.
Wheeler; a Blues & Roots man with over 18 years of experience, and averaging over 250 gigs a year has either recorded, giged with and or supported numerous legendary Roots & Blues acts such as Buddy Guy, Bo Diddley, Bill Kirchen, James "Super Chikan" Johnson, "Shorty" Layfette Gilbert, T Model Ford, Kenny Brown, and numerous others, so many that this blog really doesn't have the space to contain 'em all.....
Morrison; prolific composer, producer, arranger and Musician extraordinaire has been involved in the DIY/Garage/Punk/Rock & Noise scene over the last 20 years with over 75 in print titles/albums. Morrison who usually is in roughly 10 bands at any given moment has been involved with or is currently working with such bands and artists as the legendary Ms. Pearl Harbour, Ether, the Vile Blue Shades, the Wolfes, the Red Bennies, the Purrbats, and now Pink Lightnin', just to name a few........
Belka has been involved in the Music scene so long that he can actually make the claim to have bummed cigarettes to Kurt Cobain. Performing for well over the last 20 years now, Belka has been performed in numerous and influential Wasatch front Rock and Roll/Garage/& Punk bands including Red No. 5, the Morlocks, the Debonaires, the Invisible Rays, and Things to Smash.., his drumming style is mean, lean, and definitely fuzzy.
Pink Lightnin is a down and dirty / raw / low-fi / high energy / rockabilly / blues / mid-late 70s punk sounds and pissoff attitude and bare-bones give it to you sounds. Check 'em out at myspace.com/pinklightnin