Christian Burkholder + Zu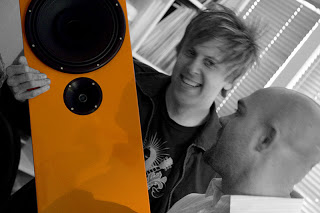 Christian has this great space in the old Charlie Chaplin Studios lot--Jim Henson today--that is now home to a pair of custom Zu Druid loudspeakers. We first hooked up with Christian at the Details party last fall... guess he got the Zu sound.
So who is Christian Burkholder? Is he a producer, DJ, radio personality, businessman... this guy is all over the music scene. Check out his Subculture project at www.subinteractive.com.
If you are a lazy clickless fool here's a quick splash. As an artist, Christian has performed as a radio announcer, Songwriter and Grammy nominated Producer and Club DJ. He also hosts and produces the syndicated tastemaker show, "Head Trip" on LA's Indie 103.1 (voted "Coolest Station In America" by Rolling Stone magazine).